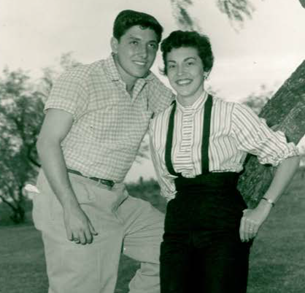 "He loved people, loved being with people. He was honest, sincere and enjoyed his life. You could always count on Raul to be true to his word."
CULLEN LOONEY
Raul Tijerina, Jr.'s love for South Texas – the land and its people – ran as deep as his family's roots. Born in Premont, Texas, in 1933, Raul was a descendent of the Canales family, one of the state's original land grant and pioneer ranching families. His parents and extended family operated numerous ranches in Jim Wells and Hidalgo Counties. Family, ranching, cattle, and south Texas were defining elements in Raul's life.
The rich Catholic values and traditions of his large and extended family also gave Raul a deep appreciation for generosity and service to others.
In 1955, just two years after graduating from high school, Raul married his high school sweetheart, Hortensia Cisneros. Six months later, he was drafted into the Army. After basic training in Arkansas and California, he was deployed to Germany in December 1956. Hortensia joined him there and they remained in Germany until the end of his enlistment. In 1958, they moved to San Antonio where Raul enrolled at St. Mary's University. Upon graduation with a Bachelor of Business Administration degree in 1959, Raul and Hortensia returned to Brownsville. Following the family heritage, Raul and Hortensia purchased tracts of land hoping to establish a cattle ranch. Acre by acre, they acquired small adjoining tracts of land, and eventually accumulated substantial acreage in the upper reaches of Hidalgo County. They proudly christened their cattle ranch the "Rocking R Ranch".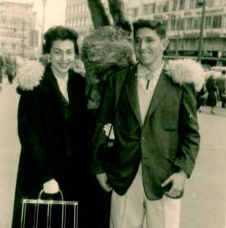 But ranching was not Raul's only focus. He also expanded and diversified his business interests in other areas. Raul and Hortensia's land holdings eventually opened the door to oil & gas exploration and production which led to investments in banking, retail stores, landfill operations, sand and rock quarries, and commercial and residential real estate projects. As their business interests grew, so did Raul's leadership role in the Valley's business communities. He was invited to join the boards of directors of three Valley banks, elected chairman of the Brownsville Public Utilities Board, served on the Texas State Board of Agriculture and the South Texas Cattleman's Association, and was appointed to the Board of Regents for Pan American University (now University of Texas – Rio Grande Valley) for an initial term by Texas Governor Preston Smith, and for a second term by Texas Governor Dolph Briscoe. As his business success expanded, so did his interest and volunteerism in community service. An avid golfer, he founded the St. Joseph Academy Alumni Annual Golf Tournament to provide support for his alma mater, St. Joseph Academy. He served as president of the Pan American Golf Association and as a member of the board of directors for the Brownsville Literacy Center and the University of Texas – Brownsville Development Board.
Through his work across the valley, Raul came to realize that the greatest resources in any community are the people and nonprofit organizations who volunteer their knowledge, skills, leadership, time and goodwill in service to their friends and neighbors. It was his dream to someday create an organization that would carry on, beyond his lifetime, the encouragement and support of these volunteers and public organizations to work together for the prosperity of the Rio Grande Valley. Years before his death, Raul told Hortensia he wished to set aside an endowment for public causes and services, and for the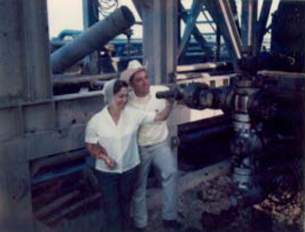 enrichment of life in the Rio Grande Valley. Hortensia shared her husband's philanthropic vision, and she promised that she would help him make his dream come true. After Raul's death in 2000, Hortensia fulfilled her promise. She directed the creation of the Foundation. She personally selected each member of the Foundation's initial board to whom she entrusted the stewardship of her husband's dream. She served as the Foundation's first president and board chair. And she oversaw the initial funding of the Foundation and the first ten years of its operations. Now retired, she serves as the Foundation's director emeritus and honorary ambassador. Her devotion to Raul and her dedication to his dream made the Raul Tijerina, Jr. Foundation a reality.